--- THE STORE IS NOW CLOSED ---
Thank you so much to everyone who has supported the new record. We made it to 110% of the goal which is so incredible! I'll be getting busy creating all of the handmade items for you and of course, working on finishing the songs. Can't wait to share some previews with you soon!
Callaghan x
TEAM CALLAGHAN - IT'S TIME TO MAKE A NEW RECORD!
It's been a couple of years since my last Acoustic Coffee House album released and I think it's safe to say the world has changed. What a crazy time we've all been through. I never imagined I'd have so much time off the road and away from the touring life that has been so second nature to me over the last 10 years. 
So I can't tell you how excited I am to be finally getting back in the studio to record Acoustic Coffee House - Volume 3! 
Team Callaghan - I would love for you to be part of this project with me!
There are lots of ways to be involved from pre-ordering a CD to purchasing one of my limited edition handmade Christmas stockings filled with surprise goodies! Personalised videos of your favourite song or even co-writing a song with me.
Thank you so much for your support - without you this music wouldn't be possible.
Hope to see you very soon!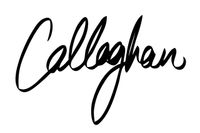 CALLAGHAN'S ACOUSTIC COFFEE HOUSE - VOLUME 3
PLEASE NOTE: All prices are displayed in US dollars but will convert to your local currency at check out.
Payments are processed securely via Paypal but you do not need a Paypal account.
All major credit cards are accepted.
ALL ITEMS INCLUDE THE VIP PASS